Date August 2019
This article was originally published by Footprint
IFM Investors says it secured science-based emission targets from seven infrastructure assets by convincing boards it was an investment proposition, not an ideological stance.
The fund manager today announced that seven Australian transport and energy assets it owns or co-owns have set science-based carbon emission reduction targets, mostly out to 2030.
IFM flagged that the targets were under development about six months ago, with assets receiving target-setting help from energy consultancy Energetics (see background here).
The fund manager will report annually on each asset's progress and plans to deploy the same target-setting process for its infrastructure assets in other countries.
"The last six months has been 'pedal to the metal', with lots of communication between us and the assets and between the assets themselves," IFM's responsible investment executive director Chris Newton told Footprint.
He said the assets were at different stages in the lead-up to target setting.
Brisbane Airport Corporation was "way ahead of the curve", having closely considered climate change impacts for several years (see background here) and being an experienced sustainability reporter.
That was valuable for other entities, as its management could brief them on building an "internal groundswell of support", Newton said.
In contrast, Northern Territory Airports was developing good initiatives but wasn't a sustainability reporter, while the NSW government's sale of electricity distributor Ausgrid several years ago had, to some extent, preoccupied its senior management, he said.
However, Ausgrid was catching up, having commissioned an additional "deep dive" analysis from Energetics on the economic benefits of various strategies, in addition to the target-setting work, Newton said.
Ausgrid has also appointed Craig Wilson as sustainability manager, a couple of years after he joined as transformation manager.
Supporting measures to achieve target
As well as emission reduction targets, each asset had to develop a commercially feasible pathway to achieve them.
"That was the big step," Newton said.
It involved ensuring each initiative was economically viable and that "we were willing as shareholders and board members to put our vote behind it".
Focusing on abatement action as "an investment proposition as opposed to an ideological position" made it easier to secure board support, he said, as no board member could argue with the the numbers.
Newton advised other asset owners and managers contemplating targets to be patient, "but keep your eye on the long term and the prize".
"Don't think you've got to get it right first time," he said. "There is no right way on day one, you just keep learning and pushing ahead."
Tapping into external expertise was also useful, he said.
Ausgrid to reduce emissions by 17%
Of the seven assets, Ausgrid will deliver the largest amount of abatement, cutting its scope 1 and 2 emissions 8% below FY17 levels by FY24, and 17% below by FY30.
NT airports will cut its net scope 1 and 2 emissions to zero by 2030, Brisbane airport will cut emissions 25% below 2017 levels by 2024, and Melbourne airport will reduce its 16% below 2016 levels by 2024.
Brisbane Port will reduce its emissions 24% below 2018 levels by 2024, and 28% below by 2030, while NSW Ports will deliver a 20% cut on 2015 levels by 2024.
Melbourne's Southern Cross Station will cut emissions 26% below 2018 levels by FY25 and 47% below by 2030.
IFM is owned by 27 industry super funds and has A$140.4 billion under management globally.
Its international assets include UK and US tollroads, oil and gas pipelines in the US, Manchester and Vienna airports, and ports in Poland, Canada and the US.
IFM's Australian infrastructure fund received a $150 million equity investment from the Clean Energy Finance Corporation to assist in efforts to lower asset emissions.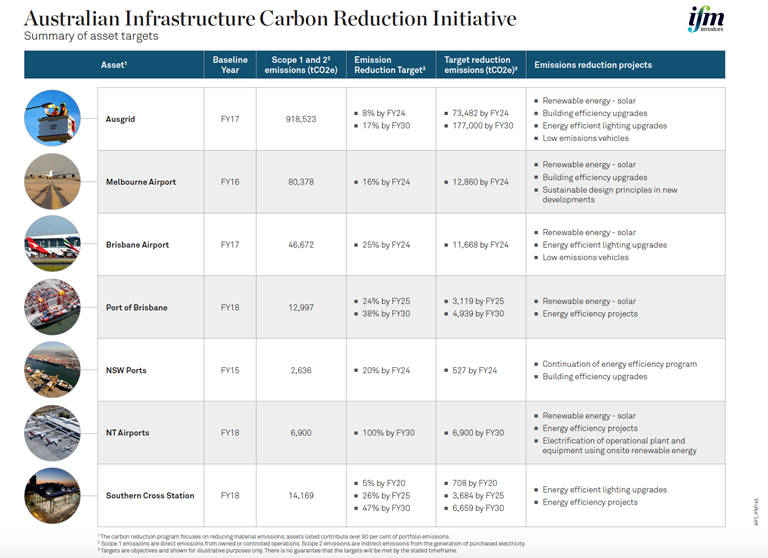 (You can subscribe to Footprint's energy, carbon and environmental news via this link).