Deep market insights, risk managed solutions
Australia's energy markets are experiencing an unprecedented transformation. An increasing amount of variable wind and solar generation is being developed ahead of the scheduled retirement over the next two decades of the nation's large fleet of coal-fired power stations. High penetration of non-synchronous wind and solar generation with near zero marginal operating costs will pose new challenges to the wholesale electricity market. Energetics' experts offer the insights and advice to navigate the risks and seize the opportunities in these rapidly changing markets.
Services for energy users
Energetics offers risk managed contracting and energy management solutions tailored to the individual needs and risk appetite of our clients. Our advice spans a range of standard and structured products.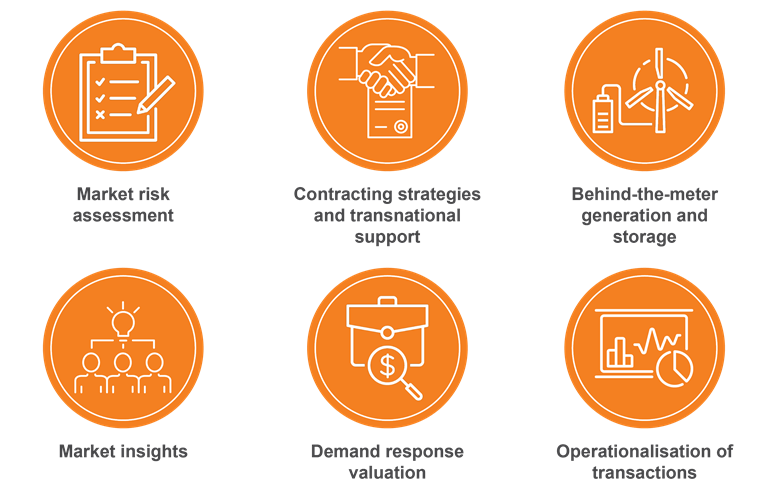 Experts in implementing tailored energy contracting strategies
When sourcing energy for our clients, we are not merely implementing a procurement process: we are focusing on quantifying and mitigating energy market risk exposure. By doing so, Energetics provides a forward-looking framework necessary for our clients to mitigate the risk of potential future market movements.
Our experts bring deep technical expertise and experience in developing and executing energy and renewable energy contracting strategies. We can effectively support large businesses in hedging their energy markets exposure, sourcing less emissions intensive energy and maximising the benefits they can capture from these markets using their own physical assets (demand response, battery storage).
Market leaders in corporate renewable power purchase agreements
Corporate renewable power purchase agreements (PPAs) have become a key consideration in 100% renewable energy, carbon neutrality and/or net zero emissions strategies. In addition to the emissions reduction benefits, a corporate renewable PPA offers a potential hedge against medium and long-term electricity market price risks.
Energetics is recognised as a thought leader in the corporate renewable PPA market. Our reputation is backed by our extensive track-record of facilitating transactions, as well as our trusted advisor status having served large energy users for more than 35 years. Even if not running a transaction, Energetics is frequently engaged to provide due diligence services for corporate PPA offers or in support of industry buying groups.
Services for owners of generation assets
In electricity markets, individual investment decisions matter little, collective decisions matter a lot. When energy developers and investors analyse investment opportunities, it is critical to understand the implications of reasonable competitive responses and the related market price dynamics. Because we buy and sell energy and environmental commodities on a day-to-day basis and have a deep understanding of Australia's physical and financial electricity markets, we have been able to provide evidence-based due diligence services for acquisitions of projects or portfolios of generating assets We have also worked extensively with generators and retailers in exploring and valuing new renewable energy products, such as 'firmed' hedges and sleeved power purchase arrangements.
When quantifying risk for an asset or a contract, our numerical simulations of possible electricity spot and forward market outlooks are derived from Energetics' PLEXOS® based spot market. We calculate prices on a trading interval basis, aligned with the expected bidding strategy of each operator and its resulting position in the merit order curve. Energetics has developed a range of future energy market scenarios that are designed to be plausible, consistent, distinctive, and challenging, in order to stress test decision making in the longer-term horizon to support a robust quantitative valuation.

Why Energetics?
Our market leading, risk management-oriented solutions for sourcing energy are supported by:
Our extensive track record
We secure more than $2b of contracts per year across the electricity and gas markets. Our team has successfully supported the design, procurement, negotiation and contract management of a large range of tailored contractual arrangements especially renewable power purchase agreements and structured retail energy products. This provides us an invaluable source of market intelligence for price benchmarking and market conventions.
A team of experts with extensive experience trading in the wholesale electricity, gas and environmental markets
Energetics leverages this experience to inform decision making and demonstrate to stakeholders the alignment between corporate risk objectives and portfolio performance. We actively manage risk for TWh+ portfolios by monitoring markets daily, forming an informed view on price, liquidity, and fundamental market drivers.
Unique quantitative modelling capabilities
For spot and futures/forward price forecasting to support the development of procurement strategies, risk management frameworks and market-to-market valuation of long-term transactions.
Holder of an AFSL
Energetics Pty Ltd is authorised to provide financial product advice on electricity derivatives, carbon units, Australian carbon credit units and eligible international emissions units to wholesale clients under the Corporations Act 2001 (Australian Financial Services Licence No: 329935).
Our experts