Energetics is tracking the uptake of corporate renewable power purchase agreements (PPAs) in Australia. These long-term deals are being concluded by some of Australia's largest energy users. A well-designed PPA has the potential to deliver multiple benefits: electricity cost reductions, the ability to hedge against energy market volatility, greater budget certainty and emissions reductions in keeping with a net zero or carbon neutrality commitment.
The market for renewable PPAs has grown rapidly in recent years from one deal concluded in 2016 (Victorian Government, own use of LGCs). Since 2017, corporate PPAs have supported projects with a combined capacity of more than 9,000MW, of which approximately 7,700MW enabled investment in new projects. After a subdued 2019, 2020 broke the Australian record for corporate PPA deal flow as measured against both metrics being tracked by Energetics:
Similar to 2020, 2021 has seen a slow start, but momentum is building with the announcement of the 240GWh Victorian Energy Collaboration (VECO) transaction supported by Energetics, followed significantly by Woolworths's first PPA in June and Telstra's third PPA in July. Since the second quarter, Aannouncements of concluded corporate PPAs continues to flow in and the second half of 2021 is expected to show strong growth.
NSW projects remain the biggest beneficiary of corporate PPAs accounting for 33% of renewable energy project capacity (about 3,000MW) supported by corporate PPAs since 2017. However, as illustrated in the 'Generation capacity of projects supported by PPA' figure below, the Queensland made significant gains in 2020 and now accounts for 29% compared to Victoria with 30% measured in project capacity of projects which have a corporate PPA.
Generation capacity of projects supported by PPAs (MW)
Queensland is dominated by a few very large transactions, whereas the scale of projects supported in the 'Generation capacity of projects supported by PPA' figure above, as well as the size of the output contracted by individual organisations illustrated in the 'Size of contracts' figure below in NSW and Victoria are more varied. Clients supported by Energetics that concluded transactions in 2020 included ALDI Stores, Amazon, CSIRO, Transurban, MREP 2.0 and Newcrest Mining. During 2020, these clients jointly accounted for about 60% of the output in MWh contracted through PPAs in the National Electricity Market and more than 90% in NSW and Victoria.
Commitment by energy users (estimated annual offtake – GWh)
Retailer-intermediated PPAs accounts 40% of the announced volume (i.e. MWh) contracted in 2021. However, demand for this contract type varies significantly from year to year but has remained above 33% of total contracted volume since 2019 when it accounted for only 12% of announced Corporate PPA offtake volumes.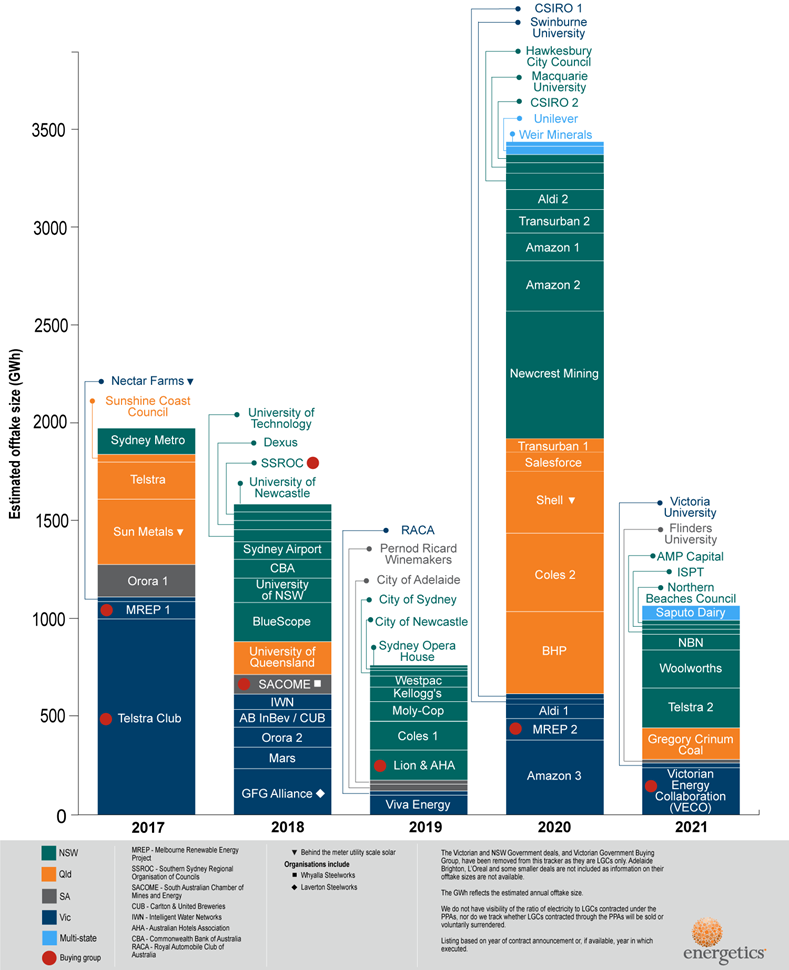 Contracts by technology type and industry
As at 17 July 2021, solar projects benefitted slightly more than wind from corporate offtake market support since 2017, with blended or hybrid offtakes gaining ground. Furthermore, the resources and heavy industry sector and multi-sector buyers groups account for nearly half the annual output in GWh contracted under corporate PPAs.[3]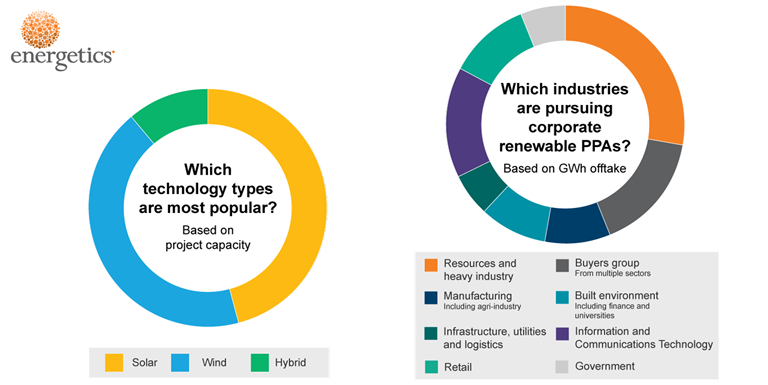 Footnotes
[1] This reflects the size of the utility scale project (larger than 10 MW) that has successfully incorporated corporate PPAs in their revenue strategies. For many this meant a number of separate transactions – often over an extended period of time. The year reflects the first transaction. For others, it was one big transaction with a single corporate or a buying group. Nonetheless, even if the PPA was for only part of the project capacity, the project often would not have secured financial close without the PPA
[2] This reflects the annual size of the offtake volume (larger than 10 GWh) an energy user contracted for in a single transaction, in the year the transaction was concluded or announced.
[3] Note that this is based on annual contracted volume and does not take account of PPA tenures which vary from 5 to 20 years.
Further insights
Energetics Exchange podcast episode 2 - COVID-19 and its impacts on Australia's renewable energy markets
Thought leadership articles
Melbourne Renewable Energy Project 2.0 - Renewable PPA transaction advisor

Issued: July 2020

Energetics was engaged in 2019 to advise on electricity contracting options. We also supported the end to end PPA transaction process from engaging the market, drafting RFP documentation, providing technical and financial assessments of the diverse range of product offers from retailers, and supporting negotiations. The work to drive negotiations was undertaken with Norton Rose Fulbright to secure a shortlist of preferred suppliers to reduce the buying group's risk exposure.

Dexus - Supply-linked corporate renewable energy supply agreement advisors

Issued: January 2020

Energetics assessed the opportunity for cost and emissions reductions, and how best the deal could be structured to meet Dexus' objectives. The overall value proposition for Dexus hinged on both the attractiveness of the power side of the proposed transaction and the supply of Large-scale generation certificates (LGCs).

Guide to corporate PPAs: unlocking the benefits and managing the risks

Issued: November 2018

While focussed on the corporate PPA opportunity in NSW, this newly launched guide is designed to bridge a knowledge gap in the market, as more and more large energy users seek to access the benefits that can be created with a comprehensive, risk managed deal. 

Monash University - Commercial and technical advisor

Issued: July 2018

Energetics provided technical and commercial advice during the development of the corporate PPA's business case, as well as during the due diligence stage of the Murra Warra Stage I transaction.

Sydney Metro - Renewable PPA transaction advisor

Issued: July 2018

Energetics was involved throughout the process. From developing options, assisting the business case and writing the request for expression of interest, through to advising on the contract model's development, pricing model design, drafting of commercial terms, industry consultation and assessment of responses. Energetics provided the in-depth understanding of electricity contracting and markets required by the Sydney Metro Authority to deliver the project.
Related Thought Leadership
Date September 2020

Last week, the Clean Energy Regulator (CER) published their annual Renewable Energy Target (RET) report. Into the future, the CER foresees contin…

Date July 2020

This article was originally published by Footprint 2020 is set to be a bumper year for corporate renewable energy power purchase agreements, acc…

Date July 2020

Corporate renewable power purchase agreements (PPAs) have become a key consideration in 100% renewable energy, carbon neutrality and/or net zero…