Energetics is tracking the progress of corporate renewable power purchase agreements larger than 10 megawatts (MW) across Australia, looking at both the size of the capacity being developed and the States that are leading the way. These deals involve some of Australia's largest energy users and sustainability advocates who are pursuing clean energy via long term supply agreements. We will update our tracker regularly.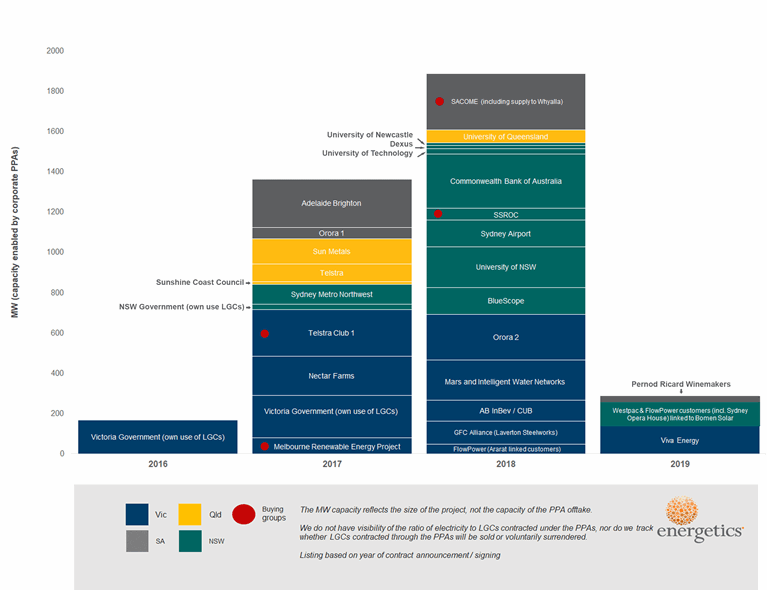 Since 2016 corporate PPAs have supported projects with a combined capacity of nearly 3700MW, of which about 3100MW enabled investment in new projects.
As at 15 July 2019, approximately 50% of the project capacity supported by corporate PPAs is solar, 8% a mix of wind and solar, with the remainder wind. Victorian projects continue to dominate, accounting for 47% of project capacity (about 1700MW) supported by corporate PPAs.
For more insights into the features of different corporate PPA deals and their impact, read our article, 'Corporate PPAs support 34% of RET requirement'..
Deal insights
Guide to corporate PPAs: unlocking the benefits and managing the risks

Issued: November 2018

While focussed on the corporate PPA opportunity in NSW, this newly launched guide is designed to bridge a knowledge gap in the market, as more and more large energy users seek to access the benefits that can be created with a comprehensive, risk managed deal. 

Commercial and technical advisor on leading corporate PPA deal for Monash University

Issued: July 2018

Energetics provided technical and commercial advice during the development of the corporate PPA's business case, as well as during the due diligence stage of the Murra Warra Stage I transaction.

Adviser to the Melbourne Renewable Energy Project buying group

Issued: November 2017

Led by the City of Melbourne, the buying group plans to procure 88 GWh sourced from a new wind farm at Crowlands, in Western Victoria. The group is working to finalise contracts with the wind farm developer – Pacific Hydro. Energetics provided technical advice, stakeholder education and commercial due diligence services throughout the process.

MREP's guide to buying offsite renewable electricity

Issued: November 2017

Through their purchasing decisions, large organisations such as councils, universities, corporations and infrastructure authorities have the power to drive investment in new renewable energy projects such as wind farms and solar parks. Throughout the document, you'll find case studies and tips drawn from our experience establishing the Melbourne Renewable Energy Project, and from other similar projects.

Download - Renewable Energy Procurement: a guide to buying off-site renewable electricity
Related Thought Leadership