Energetics is tracking the uptake of corporate renewable power purchase agreements (PPAs) in Australia
These long-term deals are being concluded by some of Australia's largest energy users. A well-designed PPA has the potential to deliver multiple benefits: electricity cost reductions, the ability to hedge against energy market volatility, greater budget certainty and emissions reductions in keeping with a net zero or carbon neutrality commitment.
The market for renewable contracting has grown rapidly in recent years from one deal concluded in 2016 (Victorian Government, own use of LGCs). Since 2017, corporate PPAs have supported projects with a combined capacity of approximately 10GW[1] excluding retailer portfolio backed transactions where specific projects are not assigned to the buyer. Approximately 80% of these projects were new (i.e., not operational the time of the corporate PPA announcement). After a subdued 2019, 2020 broke the Australian record for corporate PPA deal flow as measured against the key metric being tracked by Energetics, namely annual output contracts (GWh per annum)[2].
Commitment by energy users (estimated annual offtake – GWh)
Clients supported by Energetics that concluded transactions in 2020 included ALDI Stores, Amazon, CSIRO, Transurban, MREP 2.0 Newcrest Mining. These clients jointly accounted for more than 50% of the output in GWh contracted through PPAs in the National Electricity Market and about 90% in NSW and Victoria.
2021 was also a solid year and is now the second-best year on record. Significant transactions concluded in 2021 include the Sun Metals PPA (now the largest corporate off taker in Australia, overtaking Amazon that held the top spot until then) with McIntyre Wind Farm in Queensland, the Victorian Energy Collaboration (VECO, supported by Energetics which is the largest retailer intermediated PPA as measured in GWh annual offtake), the BHP (Olympic Dam) PPA with Port August Renewable Energy Park in South Australia and Woolworths' first PPA with CWP Renewables in NSW.
In addition to Sun Metals and BHP, 2021 also saw a number of other buyers returning to the market, including ISPT, Dexus and Telstra. At year end Dexus and Telstra both had concluded three PPAs and ISP two, with ISPT's first PPA concluded as part of the MREP 2.0 buyers group. Energetics has supported Dexus and ISPT with all their PPA transactions to date.
2022 has started with a flurry of announcements totalling 860GWh pa as at 15 June 2022c, with the most recent announcement by Woolworths (supported by Energetics) going 100% renewable in South Australia with their second PPA. Whilst local government and universities once again featured prominently, we are encouraged by the following firsts in the Australian corporate PPA market which has the potential at scale to accelerate the decarbonisation of many organisations:
The PPA announced by Fujitsu (facilitated by Energetics), is the first for the group globally and the first by a data centre service provider in Australia. Even if taking account of PPAs announced by the handful of other ICT sector players (i.e. Amazon, Telstra and Salesforce), electricity decarbonisation action by this sector has been sluggish. The sector is estimated to account for up to 3.8% of all global emissions and growing. To stay within 1.5∘C warming, it is estimated that the ICT sector should decrease its emissions by 42% by 2030, 72% by 2040 to reach net zero by 2050.

[3]

However, we predict the uptake by major ICT companies to accelerate in Australia during 2022 and beyond.
Infrastructure assets owners, IFM Investors and the Queensland Investment Corporation are driving group buying initiatives to decarbonise the electricity supply of assets it has an equity stake in. This forward-looking approach, if adopted by other infrastructure asset owners and super funds, can be a catalyst for widespread uptake of renewables across multiple sectors.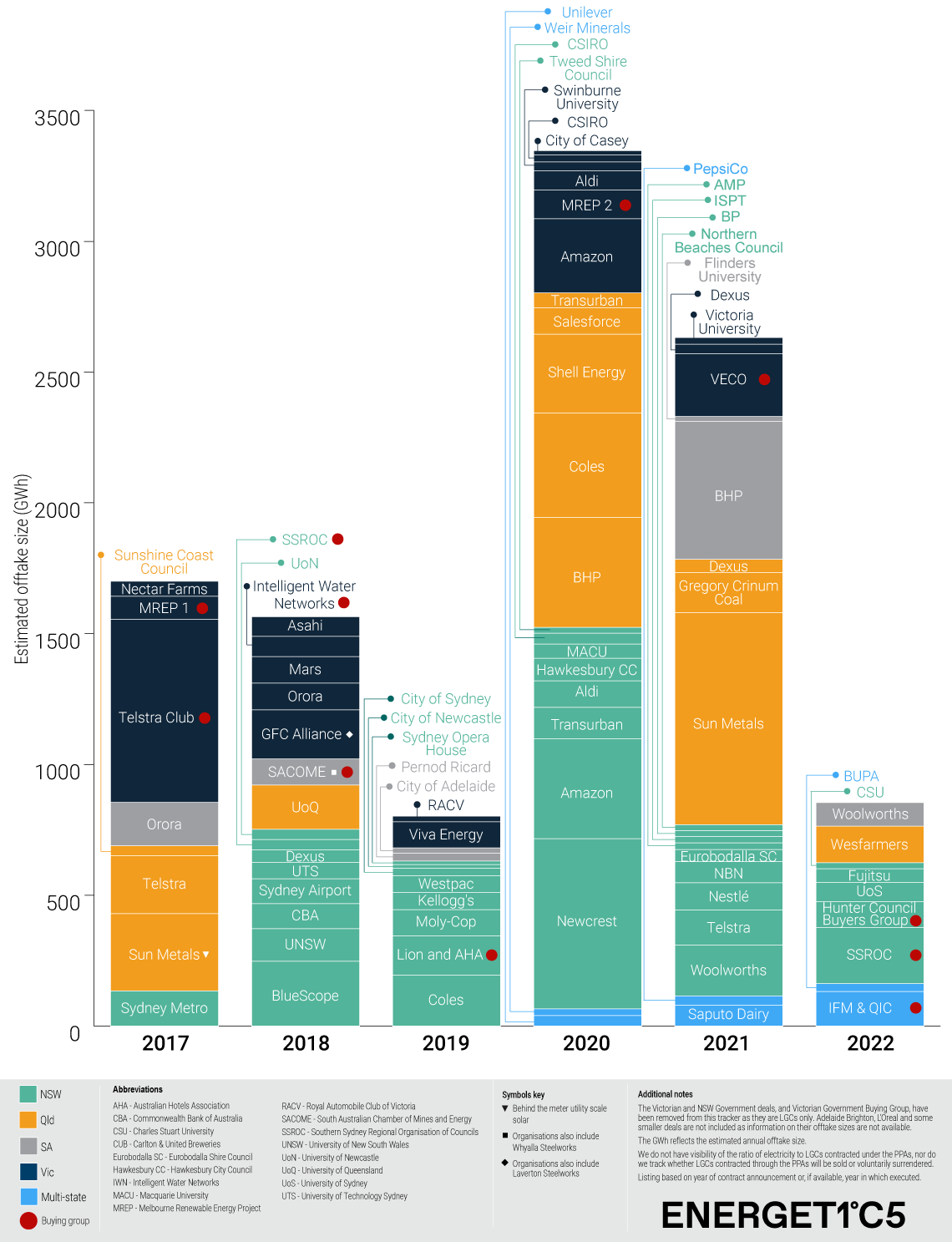 We expect 2022 to be a good year for PPAs, building on this strong start, and the approximately 1,000 GWh pa of transactions supported by Energetics that have either been concluded, but not yet announced or have already been released to the market in 2022. 
Adding further momentum is the urgency with which energy users are seeking to close out their 2025 100% renewable contracting commitments in a market that is facing growing supply headwinds in the pre-2027 period.
Between 2017 and end of Q1 2022 financial PPAs accounted for 50% renewable electricity volume contracted in MWh pa, followed by retailer-intermediated PPAs accounting for 44% and the residual 6% attributable to three large private wire projects.
The resources and heavy industry, ICT, built environment and multi-sector buyers groups now account for more than 75% of the annual output in GWh contracted under corporate PPAs.[4]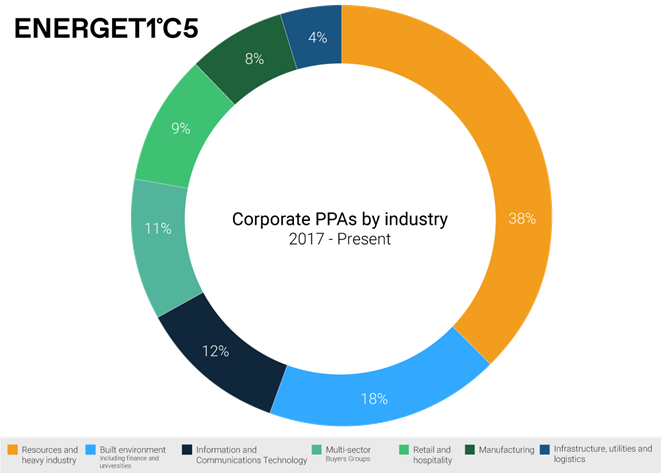 [1] This reflects the size of the utility scale project (larger than 10 MW) that has successfully incorporated corporate PPAs in their revenue strategies. For many this meant a number of separate transactions – often over an extended period of time. The year reflects the first transaction. For others, it was one big transaction with a single corporate or a buying group. Nonetheless, even if the PPA was for only part of the project capacity, the project often would not have secured financial close without the PPA
[2] This reflects the annual size of the offtake volume (larger than 10 GWh) an energy user contracted for in a single transaction, in the year the transaction was concluded or announced.
[3] The real climate and transformative impact of ICT: A critique of estimates, trends, and regulations - ScienceDirect
[4] This is based on annual contracted volume and does not take account of PPA tenures which vary from 5 to 20 years. Shorter tenured renewable electricity transactions are not reflected.