Collaborating with CSIRO on the national mission: A secure Australia and region
As Australia becomes hotter, drier and subject to more frequent extreme weather events, business faces complex management challenges. 
The CSIRO and Bureau of Meteorology have vast sets of data and information, and deep knowledge, relating to Australia's changing climate. As Australian businesses and communities seek to address the challenge of climate change, they need to access the science to obtain the insights they need. Energetics drew upon the resources of  CSIRO previously to help the Commonwealth Bank of Australia (CBA) understand the climate risks posed to their agricultural loan book out to 2060.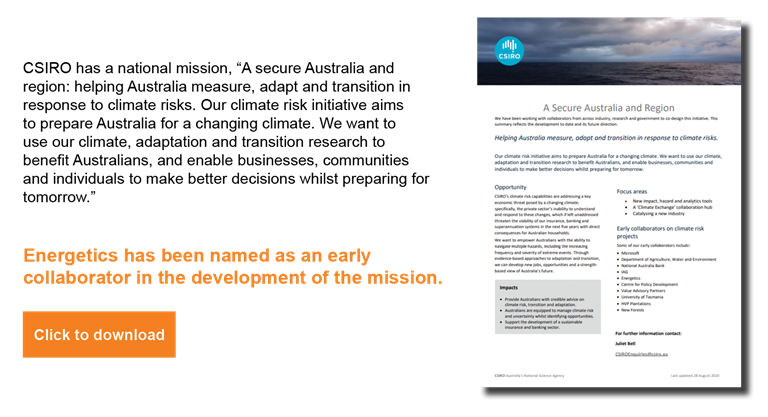 Energetics' services include:
Physical risk assessments. Energetics' innovative methodology engages with climate science to understand the effects on assets, productivity and profitability. Our approach can be seen in CBA's 2019 Annual Report where we modelled climate impacts for 65% of the bank's agribusiness portfolio though to 2060, across Australia and down to a 5km grid.
Adaptation pathway development. By combining climate science with business insights, Energetics uses robust facts, data and metrics to project climate-driven changes in the value of different assets and their productive capacity, and to identify adaptation measures. We allow for future technologies not yet developed and generate adaptation uptake curves based on productivity improvements, as well as costs and time to implement.
Energetics also highlights where there are opportunities for new products and services as existing markets change and new markets are created as the world adapts to changing climatic conditions.
We can help your business identify climate risks, and develop a strategy to mitigate those risks and pursue opportunities available in a future impacted by climate change.
Related Thought Leadership