The changing climate presents complex management challenges for business. It is a multi-faceted problem that requires a multi-disciplinary approach.
Energetics assists boards to build climate literacy and assess climate risks using the Taskforce on Climate-related Financial Disclosure (TCFD) framework. We support businesses to incorporate climate change into their risk management frameworks and overall business strategy.
Our market leading solutions are developed with:
more than 50 leading specialists
technical and commercial insights
financial, energy, policy and climate risk expertise
a detailed understanding of business drivers
the backing of an Australian Financial Services Licence (AFSL).
Our experts draw upon more than 35 years' experience consulting to ASX200 across every sector of the economy and advising all levels of Australian government. We have supported our clients to identify and develop opportunities, mitigate climate change risks and improve market positioning through enhanced brand and reputation.
Three critical aspects
Physical risks
These risks refer to how the changes in the climate such as more extreme heatwaves and heavier rainfall will impact natural ecosystems, agriculture, societies and the built environment. Energetics' innovative methodology engages with climate science to understand the effects on assets, productivity and profitability. Our approach can be seen in CBA's 2019 Annual Report.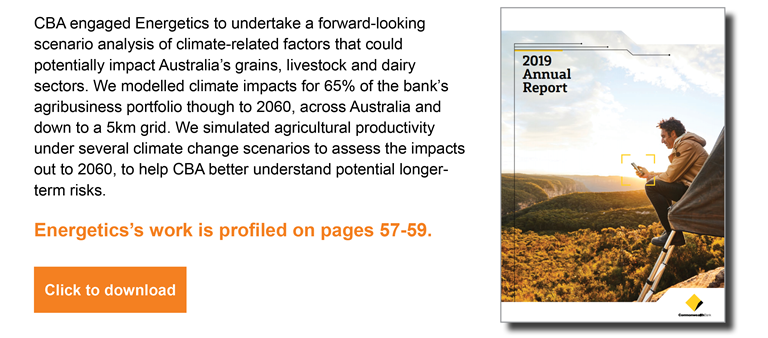 Transition risks
Transition risks relate to how the mid-century net zero emissions targets drive fundamental changes in the technological structure of the modern economy, away from the use of fossil fuels and towards zero emissions sources of energy. When assessing these risks, we draw on scenario analysis to identify and document risks, with a range of time-bound modelling (dependent upon specific requirements). This analysis enables the consideration of the impacts and potential for:
fragmented or coordinated climate policy (including state and national coordination) and the impact on growth, productivity, and costs to an organisation
exposure to legal risk as a result of failure to mitigate, adapt, and disclose climate-related risks
exposure to technological risk across operations and supply chain.
Policy, regulatory and litigation risks
How the rules and expectations may change around capital allocation, prudential regulation, disclosure, fiduciary duty, accounting and governance. Increasingly we see organisations such as ASIC and APRA require businesses to disclose climate risk as part of their reporting.
Insights into disclosures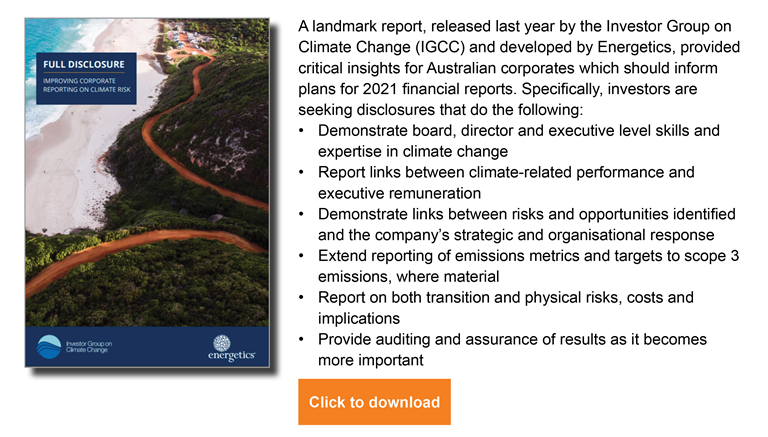 Related Thought Leadership