Date: 26 April 2017
Venue: Sydney
The energy supply issues caused by a lack of planning on the part of Australia's governments have recently come into sharp focus for the Australian public and industry. These issues now present cost and supply risks to large energy consumers on Australia's east coast.
Energetics' John Bartlett and Patrick Booth provided a briefing on the recent electricity market dynamics and the future of this market, including an overview of:
The fundamental operating principles of the National Electricity Market (NEM)
A breakdown of electricity billing for consumers and the potential impact of contract terms and market dynamics on cost and supply
Risk management options available to business on the east coast to minimise cost impacts and secure the most favourable supply contracts.
Presentation deck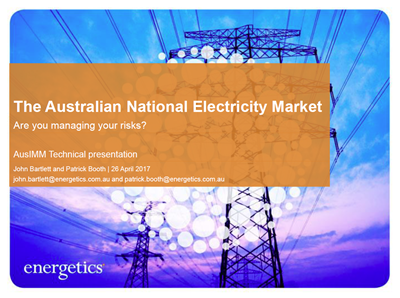 Our experts
Principal Consultant